> Musical genius A.R. Rahman shares the journey of making music for Highway at its world premiere at the Berlinale 2014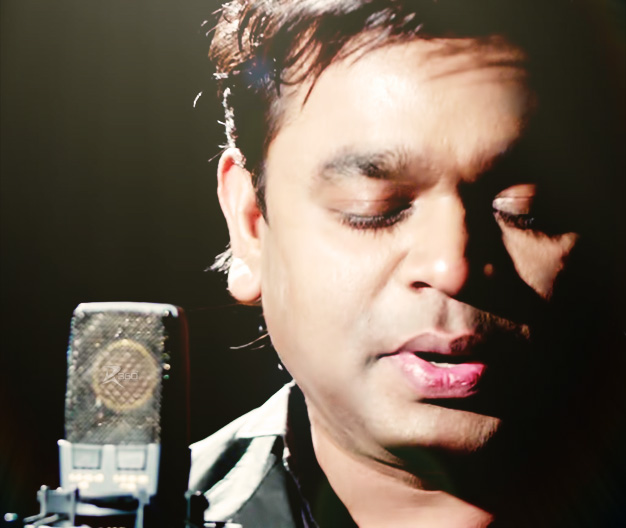 Just before the world premiere of Imtiaz Ali's Highway at the Berlin International Film Festival, the musical genius A.R. Rahman talks to Anu Rangachar about his philosophy in life, how his musical technique is inspired by his own spirituality of seeking love and truth, and why he is committed to his music college in Chennai. His one advice to the young composers: "Be Original".
This is your second film with Imtiaz Ali. How was composing music for Highway different from composing music for Rockstar?
The background score in Highway is more minimalist and it is not locked down to any choreography.
Does the theme or the mood of a film shape a tune/melody/song or vice versa..? 
The theme does shape the music of a film. In Highway, the most important sound for me is the implosive silence; as this is the voice of the main protagonist Veera which is not definitive and goes through many layers, just like how our brain functions..1000 different questions coming, settling somewhere, not settling somewhere..
What role does the script play for you to compose the music?
The script probably defines the subliminal content and then from there, the song takes shape, and the undercurrent of the thought is constantly there.
This is your first time singing a Punjabi song, "Mahi Ve..". How did you prepare for this?
There was no preparation. For me, any language other than Tamil and English is the same..I just hear it, I feel it. I am a big fan of the Punjabi language and Nusrat Saab's songs. Maybe that's what influenced me.
Music and songs have been an integral part of Indian films. However, the so-called "new Indian cinema" doesn't usually have songs. How do you view this new trend?
Songs make so many things easier in a movie, even in the West. I just finished scoring for a movie called Million Dollar Arm – there are almost 6-7 original songs in it. Songs simplify dialogues and convey a lot of information in a beautiful way. There are some movies without songs but to me, a movie with songs definitely has a better impact.
You've worked in Hollywood as well as Indian films in different languages. Is there a fundamental difference in the way we approach music than the western film industries?
There are certain differences. For example, in a Hollywood project I recently finished, I worked with a panel of 12 professionals, which included producers, corporate personnel, directors and musicians; whereas in India, I work with only one person, that is, the director.
There the music is tested by screening the film for family and friends and then taking their feedback which can be scary.
Your music has the ability to touch listeners' hearts and always reaches the audience beyond the life of a film. What contributes to this?   
First of all, God has been kind to me. My philosophy in life is being unconditional. I try to fit in more layers to whichever creative part of the song I am working on. I keep asking myself: what is it that can satisfy me again and again?
Your first single "Infinite Love" was a celebration of different cultures. You made a perfect blend of different styles of music belonging to different regions – from simple street noise, to people talking, using instruments native to those regions, even modern elements such as rap – and created a universal tone. How do you achieve this harmony in your music?
It is because the subject is so close to me and to everyone. Everybody wants to love infinitely, but can they? We have these walls around us, and we have to break these walls to really celebrate. When you reach the depth of every person, there is so much love, kindness, generosity and compassion. But the walls around them stop them. A child has no walls and hence no fear of speaking the truth. It is the same in Highway: after Veera gets kidnapped, she really sees the world around her for the first time and she is able to break those walls and free herself.
What are your upcoming projects?
I just finished Walt Disney's Million Dollar Arm. The next big thing would be Rajnikanth's Kochadaiiyaan which I am very proud of.
How involved are you with your music college on a day-to-day basis?
It's more a philosophy of facilitating the whole education system and trying my best to reach out to the underprivileged for their musical education. There is a very selfish reason behind that because we want extraordinary musicians for the next generation. There are so many jobs unfulfilled in the music industry and we would like for our Indian children to get those jobs.
What is your one advice to young composers or to your students?
I would say: try to be as original as possible and make us all proud.
Thanks  : Dear Cinema