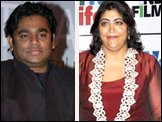 Bollywood Hungama has just heard from London that DreamWorks Animation is developing a computer animated Bollywood movie. The company has announced via many of the entertainment trade magazines in the US and the UK that they have hired composer A.R Rahman (Slumdog Millionaire, 127 Hours), Broadway lyricist Stephen Schwartz (Enchanted, The Hunchback of Notre Dame, Pocahontas) and husband-and-wife producing team Gurinder Chadha and Paul Berges (Bend It Like Beckham, Angus, Thongs and Perfect Snogging) to work on the animation studio's first animated feature musical titled Monkeys Of Bollywood.
We also got to know that Monkeys Of Bollywood is inspired by the Hindu epic 'The Ramayana'. The Mumbai-set story will revolve around two monkeys who try to stop an ancient demon from conquering the world. The Bollywood-style animated musical has no release date yet.
"As soon as I heard that DreamWorks Animation envisioned making an animated Bollywood movie, I knew I wanted to be a part of it," said Schwartz in a statement. "The fact that A.R. Rahman got involved made it an even more exciting project", the lyricist added.
So here's to DreamWorks and Bollywood, welcome to the world where dreams are sold…welcome to Bollywood DreamWorks.