FROM an 11-year-old boy, who was sought after by Ta mil film music directors to play the keyboard , music composer A. R. Rahman has become the most celebrated musician today, winning two Oscars and two Grammys and a recognition for Indian music at the global stage.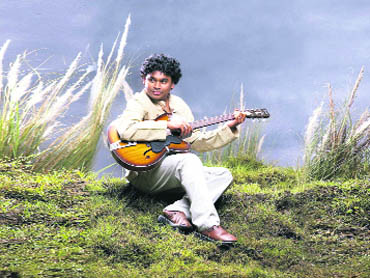 STRINGS ATTACHED:
Composer A. R. Rahman plays his guitar at a hill station Photo: R. Jayakanthan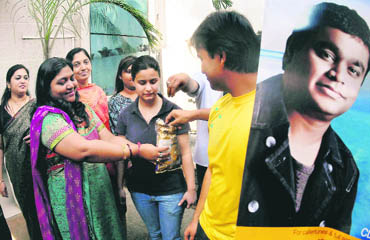 SIBLING REVELRY: Rahman's sister Fathima and students celebrate the music maestro's Grammy win in Chennai recently Photo: PTI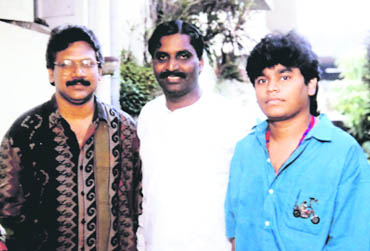 RISE FROM ROJA: Rahman with director Mani Ratnam and national award-winning lyricist Vairamuthu
Photo: R. Jayakanthan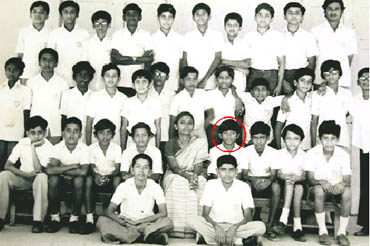 CLASS APART: Rahman (encircled) with classmates in this school photo

He has achieved this at the young age of 44. With millions of fans adoring him as a music genius, his status and the world around him has changed. But he remains untouched by fame, mingling with friends, fans and colleagues with incredible humility. He is friendly, amicable and rarely annoyed by overcrowding fans or the media.
Rahman is deeply attached to his wife and children. His wife, Saira Banu, listens to most of his songs and even has her favourites. Whenever he finds time, he spends it with his family, taking his children on small trips and picnics. His elder daughter, Kadhija, restricts him from coming to her school, due to the mobbing autograph hunters. His younger daughter, Raheema, has interest in music. His son, Khwaja Mohammad Roomi Rahman, shares the birthday with him. His son was born on January 6, 2002, and Rahman on the same date in 1966.
As a responsible and dutiful father, Rahman helps his children to develop their musical talents. His son has rendered his voice for the Hollywood film Couples Retreat and his daughters have sung for the Hindi film Mangal Pandey. He is proud of his children and happy to see their growth. At the same time, he never forces anything on them. His son's interest in music came on its own and Rahman decided to tap the potential to its fullest.
While Rahman encourages his children to do well in music, he is himself encouraged by his mother and sisters. Rahman was doubtful when he was nominated for the Golden Globe award, says his sister, Rehanna. "I told him that he would get it. And he did. Since then, it has been awards and awards all the way," she adds.
Another sister, Fathima, says, "It was a triple delight for us. After the Oscars, it was the Padma Bhushan and then came these Grammy awards. All of us have prayed at the dargah. It is an occasion to thank the Almighty for showering his love and affection on Rahman".
Rahman's mother, Kareema Begum, who brought him up, lives for the sake of her son's success. She was unwell when the announcement for Rahman's Grammy awards came. But she was the first to contact her daughters and call up her relatives about her son's honour at 3.30 in the morning.
"My mother told me that my brother has made it once again," says Fathima.
Like her brother, Fathima also attributes the success to God. "As my brother put it at the award ceremony, it is God's blessings," she says.
Though the music maestro interacts freely with fans and the media, his mother and sister rarely come to public functions or pose for photographs. All his family members are deeply religious.
Besides his family, what does Rahman mean to his friends and colleagues? The picture emerging out of the answers to this question is that of a humble, affectionate and hard-working man, whose head and heart remain at the right place, despite his scaling great peaks.
His reaction when he won the Oscar was a proof of his humility. He simply said: "My music appealed to the sensibilities of the Hollywood audience, as it was very much new and different from what they were hearing till now. Just as we like a Chinese dish, since it is different from what we are eating regularly, they liked my music".
He never forgets his roots and his speech in Tamil when he received the Oscar gladdened the hearts of the people in his state. He is also composing music for Thirukkural, poetic verses in Tamil on various themes like the economy, politics, morality and love, composed by saint Tiruvalluvar in the first century BC.
He is also composing the theme track for the World Classic Tamil meet to be held this year.
His contact with Kollywood is alive, even after entering Hollywood. He is working on Mani Ratnam's Ravana, starring Aishwarya and Abhishek Bachchan, and the big-budget sci-fi film, Enthiran, starring Rajinikanth and Aishwarya.
Playback singer S.P. Balasubramaniam says, "He has already touched the pinnacle of awards, but he will continue receiving every coveted recognition in the field of music.
"Rahman's victory was not something that came overnight. I've known him since he was a child. He is a completely self-made musician, who has put in tremendous hard work. More importantly, he is a very good human being. He has certainly put Chennai on the world map of music".
Most of his close friends share the singer's views. They adore his humility and describe him as a deeply religious man, with a philosophical outlook. To know his influences in life and what moulded his character, his friends and colleagues cite instances from his early life and take us on a short journey of his life.
Rahman's friends attribute his admirable qualities to his childhood of struggle and hardship after he lost his father at the tender age of 9. He never knew the joys of childhood as he came face to face with poverty and an uncertain future. His philosophical outlook may be an offshoot of his traumatic childhood.
His father, R.K. Shekhar, passed away immediately after his first film as a music composer was released. After his father's death, the burden of supporting his family fell on his young shoulders. It was his mother who encouraged Rahman to follow in the footsteps of his father.
He was not able to attend school regularly and finally dropped out. At the age of 11, he joined South Indian music maestro Ilayaraja's troupe as a keyboard player. Rahman himself has said: "As a child, music seemed to be a means of earning bread and butter. I had no special fascination for it. It was associated purely with work". But music also became the only source of joy for him. He was dedicated and hard working and spent several hours with his musical instruments.
Another influence on his character was that of his mentor Ilayaraja. On his influence, Rahman has said: "Until then, I thought you had to drink or take dope to be a good artist. But Ilayaraja was making such beautiful music and leading a pure life. . . He was the man who changed these impressions altogether. He proved that he could make good music without any bad habits. Even now, he is the inspiration behind my being so religious today".
Rahman got married at the age of 27. He wanted his bride to have some education, some beauty and a lot of humility. His mother found his match in Saira at a Sufi temple. Rahman recalls: "My first meeting with Saira was rather amusing. Back then, she only spoke Kutchi. I asked her whether she was interested in marrying me. She was very quiet then, but now I know she is anything but quiet". They got married on Wednesday, March 12, 1995, in Chennai.
Nothing sweeps him off his feet because he knows the uncertainties of life. As a youth, he was uncertain and apprehensive of the future. He got his first break in advertising when he was asked to compose a jingle to promote Allwyn's new Trendy range of watches, in 1987. As he received many more offers for jingles, Rahman quit playing in orchestras and moved full time into advertising.
The year 1991 changed his life. At a function where he received the award for Best Jingle Composer for the Leo Coffee ad, he was approached by popular film director Mani Ratnam. Rahman took the offer since Ratnam had the reputation of a director with a good taste for music.
Rahman later said: "I wasn't sure myself why I accepted Roja. I was offered Rs 25,000 for it, a sum that I could make in three days composing ad jingles. I think it was the prospect of working with Mani that enticed me". Roja was released on August 15, 1992, and Rahman became a household name in Tamil Nadu overnight. The rest of his journey is known to many.
His deep faith in God is also rooted in a life-altering experience. In 1988, one of his sisters fell seriously ill and numerous attempts to cure her failed. When the family lost all hope, it came to know of a Muslim pir, Sheikh Abdul Qadir Jeelani or Pir Qadri. According to his family friends, the pir performed a miracle and with his prayers and blessings Rahman's sister made an astonishing recovery. This incident was a turning point in his life as the whole family converted to Islam. Thus, A.S. Dileep Kumar became Allah Rakha Rahman. About his conversion, Rahman says: "Islam has given me peace. As Dileep I had an inferiority complex. As A.R. Rahman I feel like I have been born again".
He has said: "I remember my father's suffering. He was taken to eight to nine hospitals. I saw him suffering physical pain. I remember the pujas and the yajnas performed by the pandits. By the time, the Muslim pirs came, it was too late. After my father passed away, for some years when I was a teenager, I believed there was no God. But there was a feeling of restlessness within me. I realised that there can be no life without a force governing us. And I found what I was looking for in Islam".
One day, the pir came to his house and blessed him, saying that he would attain world fame. The pir passed away the next day. Rahman set up his music studio at the very spot where the seer had blessed him. He named the studio as Panchathan Record Inn and it was attached to his house in Kodambakkam. A framed photograph of the pir is the first thing one notices when one enters this studio, which is covered with Islamic inscriptions everywhere. Rahman later developed this studio into one of India's most well-equipped and advanced recording studios.
Valuable gold is made after it melts for hours under intense heat in a furnace. The most beautiful lotus has its roots in mud. All this holds true for Rahman. Like the Kashmiri roses in his first film Roja, this music maestro has grown out of a thorny background.