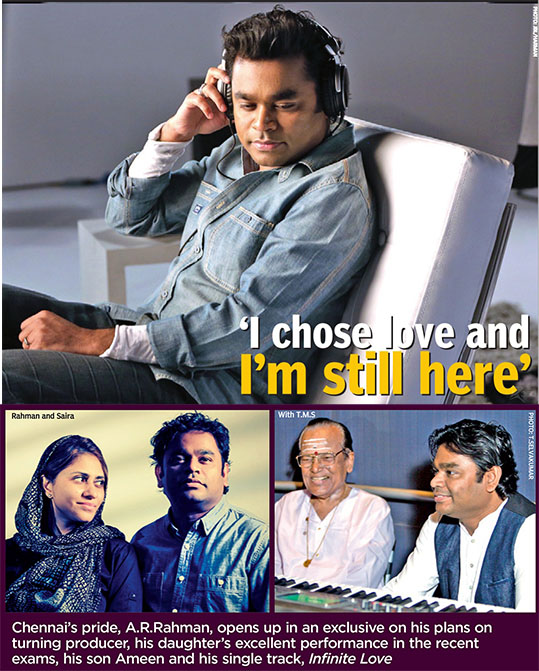 All my life I've had a choice of hate and love. I chose love and I'm here', is the all time famous quote of Allah Rakka Rahman fondly addressed as ARR. Known for his unassuming warmth and down to earth personality, perhaps choosing love over hate is something that only an idealist like Rahman totally engrossed in music can profess this spiritual inclination.Two Oscars, Two Grammys, a BAFTA, a Golden Globe, a listing in Time Magazine's 'World's Most Influential People', several National Awards, Most Popular Indian on the Social Networking sphere, a Honorary Doctorate from Miami University — the man who redefined Indian music is still a grounded person. His huge body of work for film and the stage earned him the nickname, Mozart of Madras. The ace composer has turned a script writer and producing a multilingual film soon. In this exclusive interview to DC, A.R. Rahman for the first time opens up about his passion for writing, his family, his thoughts on youth empowerment and his many indulgences among others.
A BRAND NEW AVATAR:
For the last four to five years, on long flights to the US, I have been toying with some script ideas. I've been learning the art of script writing and screenplay. The first movie will begin next year, Insha Allah. However, I'm just the creative producer, apart from scoring the music for this movie. I do not have time for direction now because that requires undivided time and attention. My banner YM Movies produced the short film Infinite Love and Changing Seasons.
A PROUD PAPPA:
My kids have ever been pushed into anything because it was necessary for them to feel a sense of freedom. It was indeed a proud moment for me when I heard the news of my daughter Khatija's excellent grades (94 per cent in higher secondary board exams). She had discontinued music to concentrate on her studies that also includes Sufi literature.
ADVISING AMEEN:
As a father, I feel whatever they learn has to be holistic and in depth and that they have to be very passionate about it
THE HIGHS AND LOWS OF SOCIALNETWORKING:
I personally feel that it's taken out the long winded, bureaucratic route of displaying one's talent which is good. However, there are some not so good things in it too, which is a little concerning as a parent . Kids these days have access to content that should ideally be filtered out.
ON YOUNGISTAAN:
The refinement of any political system is necessary. But it has to serve the people without discrimination. One should appreciate the achievements of the regime. So the good work should be appreciated whilst the not so good ones should be improved.
ON SAIRA, HIS BETTER-HALF:
Saira is crazy about perfume oils (non alcoholic) and has a huge collection. She also handles my styling. So, that's one thing less to worry about
FUN WITH FAMILY:
I do miss my family but they travel with me sometimes. We all have a lot of fun together.
HOLLYWOOD ASSIGNMENTS:
I'm working on the DreamWorks musical along with Stephen Schwartz, which will release in 2015
RECENT INDULGENCE:
My new Steinway piano is the most exciting thing I got in recent times.
RASAYANA ROJAKKAL:
It is a Tamil album with the subject of female empowerment. I co-conceived the concept with my sisters, Raihanah and Ishrath. Presently, it is in the final stages of completion.
DEVOTIONAL ALBUMS ARE PERSONAL:
I do devotional songs but some of them are never released because it's quite personal.
INFINITE LOVE:
Infinite love is a single track which was conceived to 'instill faith and optimism in people' prior to the predicted Doomsday last December. It was like a test for me because the concept was mine and the story idea and the vision was executed without any compromises. There were four different teams from various countries working on it. We are releasing the single packed with a lot of goodies. I hope it is something that people will cherish for along time to come.
ON TURNING SOLO HERO:
I'm too old for that (smiles)
KOCHADAIYAAN'S MOTION CAPTURE EXPERIENCE:
I feel that the animation industry will be leagues ahead of even live action in a few years because of the possibilities and the flexibility.Scoring for this movie has been a great experience and the results are coming out every week. I hope it's exciting for the audience too.
EPITOME OF COMMITMENT
Producer Aascar Ravichandran praises ARR for the success of Maryan's music. He says, "Talent alone does not catapult one to success. One has  to be dedicated to work that ensures his elevation and success in life. A.R. Rahman stands testimony to this. He has even postponed his overseas trip and for the mammoth rerecording schedule of Maryan.
RAJINIKANTH CROONS FOR ARR
After almost 20 years, Superstar Rajinikanth returns to the recording studio again to croon a number for his much anticipated film Kochadaiyaan. Unlike his maiden singing attempt in Mannan which was more of a romantic track, this one in AR Rahman's composition is said  to have a philosophical tone. Rajini has sung in both Tamil and Hindi. There are few dialogues in between, which Rajini has rendered in his trademark style.
'SON' SHINES
10-year-old Ameen Rahman made his first stage debut and public per-formance at the opening ceremony of 10th Chennai International Film Festival Chennai recently. Ameen performed a short medley on the piano from Mani Ratnam's Roja to a full house, while students from Rahman's KM Music Conservatory also entertained with their mind-bowing rendition.
Thanks DC & ANUPAMA SUBRAMANIAN