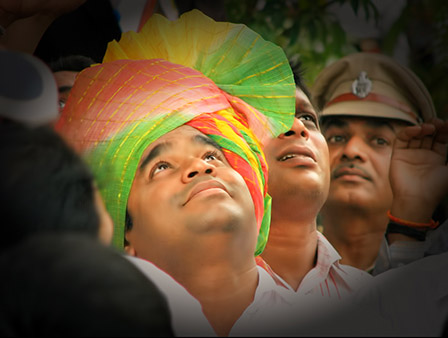 That's only as far as music is concerned, asserts music maestro A.R. RAHMAN, whose is excited about his new offering – Lekar Hum Deewana Dil. The Oscar winning composer talks about reinventing sounds, his future projects and more
Fresh from the success of Disney's Million Dollar Arm, where he composed the original motion picture soundtrack; composer A.R.Rahman is now kicked about his next venture, Lekar Hum Deewana Dil. For someone who is always busy with multiple projects down South or live concerts across the globe, Rahman was actually quite keen on connecting with Hindi music once again and this time, with a set of fresh sounds. "I am thankful to the makers for signing me (laughs). For a film like this, we had to first decide the concept and then started working on the tune," stated Rahman. While talking about the compositions, he mentioned how Khaleefa, the rebellious number in the album, was actually created. "Right from the beginning, we knew that we wanted at least one chartbuster in the album.
In between one of these regular jamming sessions, Amitabh (Bhattacharya) suddenly thought of the perfect hookline for this club number and that too, after stepping out of a toilet. As far as me singing the track is concerned, the makers wanted me to sing one song and I had the option of picking any of my compositions. I had to choose Khaleefa!" stated Rahman.
But it is the campus number crooned by Hriday Gattani, Tu shining, that has the most interesting story behind it. According to Rahman, the hookline of the song was inspired by an e-mail sent by Slumdog Millionaire director Danny Boyle. "I had mailed Danny to inform him how happy I am to be a part of his film,127 Hours. Being an Indian composer, it was a privilege to work on an out-and-out American project with an American hero as the lead. He replied and the last line of the email said, 'shine like a diamond'. It is a common blessing in the West, but it was definitely special for me," mentioned Rahman. The main tune of the song was originally made in 2011- 2012, but when director Arif Ali heard it, he loved it and post a few alterations, the hookline was locked and that's how Tu shining got created.
In his two-decade long journey in the industry, the composer has experimented with several genres and now, he believes it is time for him to redefine any genre that he works on again, be it romantic or full of zest club numbers. "I am not young anymore, but music will always be. When I first started, I did a lot of experimental stuff with Chikku bukku raile in Gentleman, then came Rangeela and the list continued. But when you grow as a musician, you have to drop a few things and move on. I have tried to re-invent my style with all my films and Lekar Hum Deewana Dil is no different," opined Rahman, giving an example of the rowdy, high-on-energy number, Mawali Qawali, which is composed on the lines of the melodies made by the late R.D Burman. "But, it also has the jungle mein mangal feel," quipped Rahman.
In the coming months, Rahman's work will be heard on television as well, as he has composed the music for Ashutosh Gowariker's ambitious project, Everest. He is also proud about the fact that the students from his new company have composed the background. Rahman is also in talks with the director for the Hrithik Roshan-starrer MohenjoDaro and will also be working on a Salman Khan film next year. On the regional front, he has already finished working on the compositions for Vasantha Balan's Kaaviya Thalaivan starring Siddharth and Prithviraj. There is also a project with Steven Speilberg in October, film-maker Lasse Hallstrom's The Hundred Foot Journey, Imtiaz Ali's Tamasha, Shekhar Kapur's Paani among others in the pipeline.
Not minding the workload, Rahman believes that he always enjoys being around music and constantly wants to produce something fresh. "I don't want to grow old, but only as far as music is concerned," said the versatile composer with a smile.
By Priya Adivarekar (Screen India)