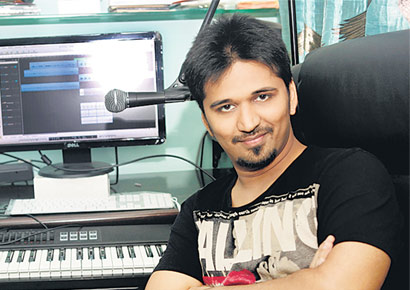 Music man Amit Trivedi has kind of grown used to being showered by compliments for his compositions these days. Having composed the scores for films like Aisha, Dev D, No One Killed Jessica (NOKJ), Wake Up Sid, Amit has now composed three tracks for the film I Am. Though the numbers haven't gone on to become chartbusters like most of his previous compositions, Amit says that he has no regrets.
"The subject of the film is dark and sad, which is why there was no scope for romantic, peppy or item numbers. But I am happy with the response the tracks have got," he says adding that he is positive that once people see the film, the scores will gain more popularity. "Audio-visual connect always works in favour of the song," he adds.
What keeps Trivedi going, he says, is the constant need to experiment, which is why the music in most of the film he worked for were drastically different from each other. While Wake Up Sid had Sufi elements in it, tracks in Dev D had a robust energy to them. Numbers from NOKJ reflected the mood of the film and Aisha had peppy numbers, which suited a chick flick.
Ask Trivedi if he intends to work towards any international collaboration, like most Indian artistes, and he replies in the negative. "I will feel blessed if AR Rahman were to ever sing for me. And internationally, I would be happy just being a chaiwala to artistes like John Paul and Hans Zimmer. They are my idols and I'd be grateful if they just allowed me to watch them work for a day," he laughs.
Talking about his latest work, Trivedi says that he was originally supposed to compose just one song for Onir's film. "Onir had actually approached me around three years back to compose one track for his movie. He had faith in my abilities and he was struggling to find financers for his venture. But my gut said that he had stories which need to be told and I wanted to be part of it. And as luck would have it, he told me later to compose two more tracks, because another music director had backed out," recalls Trivedi.