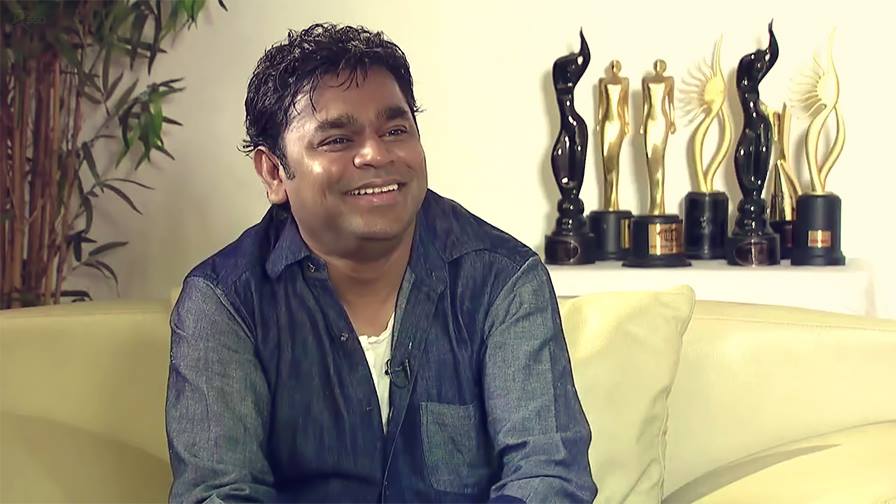 AR Rahman, 46, is most attached to his music. He cries with sound and gets excited with tools. He has learnt to make his choices and then stand by them. He uses most of his money to build his school and equipment and is truly excited talking about being the principal of his music school. He may have just missed a close chance to work with Michael Jackson, but is working towards his dream of presenting an Indian Broadway with his students. His latest music from 'Raanjhanaa' is extremely soulful and has entered the Mirchi Top 20 charts. He speaks to TOI about the musical instincts of his mother, his pre marital pact with his wife and what he shares with Rajinikanth. Excerpts:
How early did you know that you would be related to music?
My mother (Kasturi Shekhar) realised it, not me. My father was an arranger for composers and a Man Friday for many of them. Those days, composers were Carnatic musicians, who would write the tunes, and my father would arrange the music and, so, he would be working with eight composers at the same time, working night and day. He died when I was just nine years old. Till five years after my father died, she would rent out his musical instruments to run the house after which she was advised to sell the equipment and live with the interest, but she refused saying, 'No, I have my son. He will take care.' She has music instincts. Spiritually she is much higher than me in the way she thinks and takes decisions, for instance, her decision of making me take up music. She made me leave school in Class XI and take up music and it was her conviction that music is the line for me.
Did you grudge her the decision of making you quit studying?
At that time, from society's point of view, if you were not educated, you didn't have a life. You would probably become a taxi or rickshaw driver without education. So naturally, I was torn at that time. And I thought that after a couple of years when I earn money, I would go back to finishing my education. But little did I know that education is about learning from life and putting you in a situation teaches you more than getting educated in a college. Not that studies is bad, but it's the difference between knowledge and wisdom. Wisdom comes from within. Knowledge is acquired and can sometimes  put a screen on your wisdom. Because of this unfulfillment, I have a constant itch to learn from life. But my first job of working with Ramesh Naidu, as his second keyboard player, is what helped me buy my own instruments, which then became my future.
Do you express your love to your mother?
We are not like a movie mother-son always hugging and she saying, 'Mera betaaaa.' I have never hugged her in my life. I guess I am making it up in Hollywood, where you have to hug everyone. It's considered rude if you don't hug there on stage.
Do you miss your father?
At times when some important decisions have to be made, for instance, like when my sister got married. I did not know how to play those roles. Not having my father, I know how important it is to have one, so you tend to play the role of a father properly yourself. When I travel with my kids abroad, I am not myself, but I'm more a father, who wants to protect them. Sometimes, I am even aggressive about certain things and get surprised seeing myself like that, for instance, when people want to take pictures of them. I am fine if they want to take my pictures, but they are not public property.
Why do you work through the night?
It's convenient for me. I pray five times and the morning prayer is at 5.30. So if I sleep at 3, I can't get up. So I stretch my work by another three hours, finish my namaz in the morning and then sleep. I am able to control my demons better in my morning namaz and so, on days when I have done my morning namaz, I am much more calm. My wife will always say, 'Oh! You are angry today? You didn't read your namaz in the morning?' And she is right.
How does your wife manage with you working at night?
We had a conversation before marriage, otherwise we would have separated long back. That was my orientation to her. I had told her, if we have planned dinner and a song comes up, we will have to ditch the dinner.
While music excites you, what makes you feel low?
Every time I sit for a song, I feel I am finished. It's like a beggar sitting waiting for God to fill your bowl with the right thought. In every song, I ask help from Him. Everybody around is so good, so to create music that will connect with so many people is not humanly possible without inspiration.
How do you keep yourself level-headed?
It's like driving your car. If you drive too fast on the highway, you will topple, so you better maintain your speed. Life is similar to that and that's the way you have to control your head.
When you go to Ajmer Sharif, I believe you take a rickshaw and go from the back entrance so that no one notices you?
It has happened only for the last three years, where I am scared to take a car. My mom bought a house and I felt great that I could go there for a week and stay. But, the first time I went there, there were a 100 people standing outside. I never stayed there again. It's just that internally you are extremely vulnerable at that time. People are excited and they think they are right, whereas we want peace there.
Is it different when you live in LA?
Ya, I drive a car and cook omelettes there. There is too much of work here, so I like to get away and be able to introspect there.
Which are the directors you enjoy working with?
I enjoy working with people who trust me. The more someone fights with you, your instinct weakens and you tend to say, 'You're the boss you tell me,' and it becomes no one's child. But sometimes, people push you out of your comfort zone and you produce something beautiful. The directors I have enjoyed working with are Mani Ratnam (standards are extremely high and he is right up there for me), Rakeysh Om Prakash Mehra (is extremely open and trusts), Imtiaz Ali (will take you to a zone where you have not gone before), Subhash Ghai (has his own musicality), Ashutosh Gowariker (brings back lost things of Indian film music) and Aanand L Rai (interesting combination of Indianness and intrigue). All of them have an instinct for music. So it's good to work with few people and feel satisfied.
Are you yourself a fan of any star?
I am definitely a Rajinikanth fan. I believe in many things he believes in. Learning from life is what I have learnt from him.
Any regrets?
I missed just a close chance to work with Michael Jackson. I really wanted to meet him and met him twice — once, after the Oscars and the second time, three months after that, we met through my agent who was a friend of his agent. The first meeting was more introductory and mutual admiration. It took a while for me to be comfortable with him. It was fascinating for me that he was talking about the chords of Jai Ho. He talked about how much he loved India and how he wanted to come back. One of his assistants and his kids were playing on the side. He was fully dressed up with makeup and gloves and there was opera music playing in the background. It was on his second visit that he said, 'AR, let's do a song like We Are The World. I spent two hours each time with him. Michael was like a child and suddenly, he would start dancing and showing me his steps and say, 'AR, this is how my every move has to come from my heart.' He was a stroke of lightning in front of me. I wanted to take a picture, but resisted as I know how irritating it is to have someone take a picture with you. He spoke about the best things in the world, about all he wants to do. It would always take a long time for people to connect with him as he had so many people in between, but we spoke 3-4 times on the phone after that. A month after my second visit, he died.
Is it different to work in Hollywood versus working in India?
India is so much easier than Hollywood. I have been able to do so much here, due to the trust and people investing money in me and I have no complaints. Hollywood works in two ways. One, is to work with people like Danny Boyle, who is like a Mani Ratnam and completely trusts you. And then there are studio movies, where a panel of people control you and your music. Even though this panel is not ordinary and includes some of the best actors and musicians, it is difficult to pass them. Since they put hundreds of millions of dollars behind a movie, they need to play it safe and have themselves covered. I like both, as I am in a space there where all the people I have admired all my life, are just a street away from my place in LA. I don't recognise them, but they do due to my brown skin. When you win an Oscar, you also become an Academy winner, where you can vote for every category and have access to free screenings for all the movies with a plus one. I have
learnt structure there, but it is the Indian film industry that has made the world look at me.
Hearty Thanks To Priya Gupta & TOI