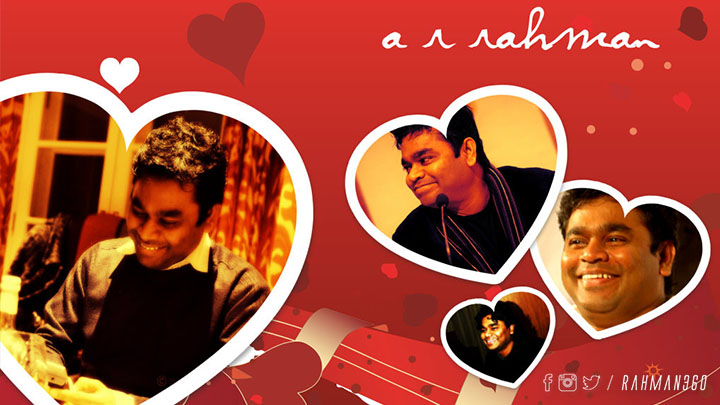 A five-year-old girl battling cancer clings to AR Rahman's melodies for comfort and healing.
There's no particular reason that I write this today, just that two long and cursed years of chemotherapy are timing out for my five-year-old daughter Niharika. From the day her treatment began in Chennai's Apollo Cancer Hospital, Rahman's music has been morphine for her mind, where she has fought her lonely battle — lonely because cancer pain is unique in its ability to wreck you.
And, like degrees of pain, there are many genres of great music but in the worst of times — and it's always bad with chemo — Rahman is the only fix for us. His music lifts Nika up where she belongs, she takes wing and escapes the present, the catheter in her chest, blood draws, chemo, anesthesia, syringes and the lingering yuckiness.
On the night before Deepavali 2010, Nika, barely three-and-a-half years old, was diagnosed with acute leukemia, the kind that can kill in six weeks. You can never have your backpack ready for this enemy. In a daze, I gathered some clothes, money and entered a world that smelt funny, the kind of smell that doesn't let you eat. Leaning over the steel bed's cold frame in Room 1335, I dug into the music bank in my head and sang to Nika my Rahman favourites. With white hospital walls closing in on us and only memories of a charmed life lived on the playgrounds of America for company, the stage was set for a certain kind of music. "Oru deivam thantha poove" and "Arziyaan" kept us going for 45 days, Nika pulled through. "Congratulations, she is in remission. This kid has a lot of fight in her," said Nika's oncologist, Dr.T. Raja.
I have heard Rahman's songs in every city I lived: New Delhi, Noida, Bangalore, New York, London, marvelling at how a simple tune turns achingly beautiful, barely out of reach. But I was listening from a place of ordinariness, where guys from the blood bank wearing a starched white and white uniform, like a bad joke, are not struggling to find a vein that works at 4 a.m.; I lived the life of just about anyone in Banjara Hills and Adyar, heard "Chinna Chinna aasai" in 1992 and knew a genius had arrived but it takes a kid on life's edge to tell me that great music is like being able to call God on his mobile phone.
Which God, by the way? Ha, ha, gotcha! The travelling Ganesha in my jeans pocket, I say; Jesus says Nika's daddy; Nika's blood is a cocktail of donations from Muslims, Christians and Hindus. Rahman's devotionals silence all faltu religious noise. Nika's every physical experience goes by the name of a Rahman melody. "Chale Chalo" makes her believe she can stand on a broken leg, like Jaden Smith in The Karate Kid, and hit back. Zubeidaa's "Dheeeme Dheeme", Guru's "Ae Hairathe" promise Nika that her hair will grow back, life is good, "Nila Kaigirathu" reminds her that an oil lamp burns bright for her in her grandmother's house, "Roobaroo"'s recklessness sets her free, "Jashn-e-Bahaara" gives her peace.
Some days, the nausea sucks so much, Nika is unable to even look at food. When dextrose and saline begin trickling through her veins at 30 ml per hour and "O Paalanhaare" or "Khwaja mere Khwaja" play in the half light of a hospital room, Nika wills herself off the couch and dances in slow circles, one palm facing upwards, like Hrithik Roshan in Jodha Akbar; that is what Rahman means when he says that music is a spiritual exercise. For lack of a better word in English, it's an ehsaas.
Nika is often on an empty stomach for hours before chemo and fed up with the grind. "Don't talk, just put on 'Luka Chuppi'," she orders me from the back-seat, as I drive on auto mode through familiar back roads to Hopkins. Nika is 5, the Hindi she knows is from my random conversations, but she understands this song's each cadence and octave, she practises it tirelessly and when she gets it right where the tune changes she is no longer a cancer patient, she is a rock star.
In the middle of all this came radiation to Nika's head. For days, we drove out of home when it was still dark, Nika running on empty, the car on a full tank. "I want song number 27, 'Rang de Basanti'," she would say, getting into her car seat. Something about its beat and rhythm appealed to her immensely during the radiation phase. "Thodi si dhool meri dharti ki mere watan ki, thodi si khushboo baurai se mast pavan ke…" How did I land up here? I think. America, Johns Hopkins, leukemia, chemotherapy, radiation, driving, driving, driving… "Yuhin chala chal rahi."
Two-and-a-half years on, the promise of a healthy life is within reach. Jai ho, Rahman bhai. Nika's healing, like your music, is the hand of God. Ella pughazhum iraivanukke.
Thanks : The Hindu