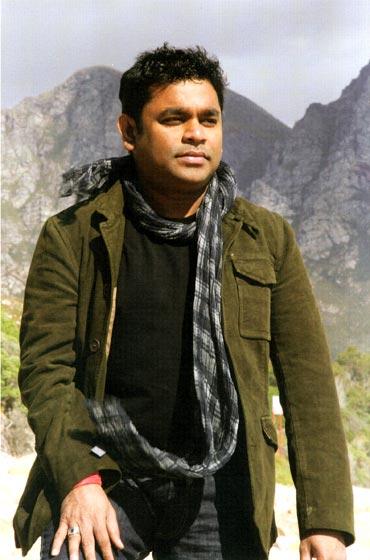 Many books have been written on star composer A R Rahman but surprisingly, his official biography is only just out. Penned by British television producer Nasreen Munni Kabir — who has made documentaries like Movie Mahal, In Search Of Guru Dutt, How to Make it Big in Bollywood and The Inner and Outer World of Shah Rukh Khan — the book is titled A R Rahman: The Spirit of Music.
The book, which is a conversation between the author and Rahman, captures Rahman's life before and after his international stardom.
We produce an excerpt about his early life:
NMK: I believe it was your father, R K Sekhar, who gave you your first music lesson. He is still regarded as a legend in the Malayalam music industry. How did he come to join films?
ARR: He began by composing for the theatre and then for the cinema. My father was a composer, arranger and conductor and had worked in over a hundred films. He played the harmonium and piano. My father used to be so busy that he would sometimes do seven or eight recordings a day.
Yes, he did give me my first music lesson. But I only remember it faintly. I was four.
NMK: Where were you born, at home or in a hospital?
ARR: My parents lived with my maternal grandparents in a rented house on Mount Road in Pudupet in Chennai. I was born there on 6 January 1967, in the morning – at 5.50. It was a Friday. There was no midwife assisting the birth, and my grandmother and father were by my mother's side.
I was told that my father was very happy because I was the first son in the family, so he distributed sweets to everyone. You know most Indian parents are keen on having a son. [smiles]
My mother said I used to suffer from tummy problems and until I turned four, I believe, I was a frail child.
NMK: Did your mother describe to you the kind of child you were?
ARR: Apparently I was a bit of a loner, didn't have many friends and stayed at home most of the time. She told me when I was five, I would lock myself into a room and play the harmonium for hours – the quiet type, soft natured. [both laugh]
Some months after I was born, my father had enough money to buy a house on Habibullah Road, which is in a Chennai neighbourhood called Thyagaraya Nagar. We moved there with my maternal grandparents. That's where we lived for twenty years, from 1967 to '87. My grandparents used to pamper us children.
I have three sisters. The eldest is Raihanah, who is also a composer now. Her son Prakash is doing very well composing for South Indian cinema. Then there's Fathima and Ishrath, my younger sisters. Fathima is the director of KM Music Conservatory, the music school I started in Chennai. My youngest sister, Ishrath, is a singer and has her own music studio. We're hoping one day to release an album with all the family members.
Having my sisters around when I was young helped me greatly in dealing with the social isolation and the absence of a father. When I was growing up, they gave me so much love and it's the same even today.
Excerpted from A R Rahman: The Spirit of Music, Conversations with Nasreen Munni Kabir, OM Books International, Imprint: Spotlight-An Imprint of Om Books International, with the publisher's permission, Rs 495.