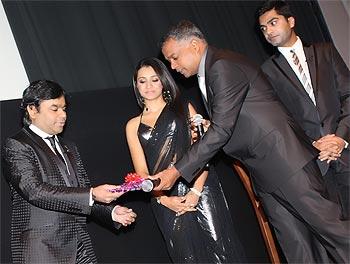 Sony Music India's foray into the Tamil movie industry kicked off in style with the announcement of the world premiere of A R Rahman's  Tamil album, Vinnaithaandi Varuvaayaa (VTV). Interestingly, this is the first Tamil album from Rahman after his double Academy Award win and just before the Grammy Awards scheduled for February12.
VTV directed by Gowtham Menon stars Silambarasan (Simbhu) and Trisha Krishnan in the lead roles. The songs of Menon's last film Vaaranam Aayiram composed by Harris Jayaraj were also released by Sony Music. The album was a critical and commercial blockbuster.Coming back to Vinnaithaandi Varuvaaya, a sneak preview of its music was held in London  on December 19. The entire cast and crew including Rahman, Gautham Menon, Simbhu, Trisha and all the singers were present. "London was a great experience. We had a live unplugged performance of all the songs by the singers who have sung in the album.
The audience, mostly English, loved the music. Everybody felt it sounded very international which was hardly surprising considering the music is by Rahman. The intention was to reach out to an international audience but we achieved more than that. We plan to do a road show with all the singers now. This show was a first of it's kind. Now the expectation about the film is tremendous and the pressure is on me," says Gautham Menon. VTV's music CDs and cassettes will be released across the world via Amazon's online retail store. The music will also be available digitally on iTunes, Nokia Store, and iPhone application.This unique activity for VTV will be executed through an iPhone music application (app) which will allow the users to stream and listen to the full-length songs from the film, download the songs, wallpapers and other movie related information. This initiative is a first for an iPhone application that is entirely based on movie OST by Sony Music.
It is the result of the joint efforts by Sony Music Entertainment India and Dot Com Infoway (DCI) Mobile Studios, a Chennai based Software and Mobile applications developer. The service will be available to any registered user of iPhone apps across the world. A user will be charged $1.99 for downloading the application facilitating unlimited streaming of the songs from the album and $2.99 to download the whole album. Dot Com Infoway (DCI) has also made sure to restrict unauthorized sharing of the content through this unique application. A user who downloads the songs on his iPhone or iPod will not be able transfer it to any other unauthorized device.Shridhar Subramaniam, Managing Director, Sony Music India, says, "Sony Music has always been at the forefront of redefining music marketing. This initiative, which is a first in India, will enable a savvy generation of smart phone users to access streamed audio feeds over an active data connection.
Our efforts have always been to make the music reach its audience as, when and how they would want to enjoy it. We are quite certain that Rahman's fans and lovers of his music will enjoy his genius through this application".
http://movies.rediff.com/report/2010/jan/07/a-r-rahmans-tamil-album-gets-world-premiere.htm