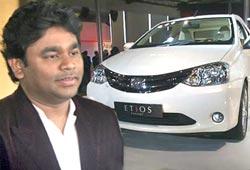 Toyota Kirloskar Motor today said it has signed up two-time Oscar winner A R Rahman as its brand ambassador for its upcoming small car 'Etios', which will be launched in the country in December.
The car has been been specifically developed for the Indian market and the company is investing Rs 3,200 crore at its second plant in Bangalore to produce its units.
"The much-awaited Etios will be launched in December this year, and Rahman as the brand ambassador will endorse the products through various marketing campaigns of the company," Toyota Kirloskar Motor (TKM) said in a statement.
Commenting on the signing up of Rahman, TKM Managing Director Hiroshi Nakagawa said: "There is a very strong connect between the product and its brand ambassador, with both being, 'global', 'innovative', 'reliable', and a 'class- above quality'."
TKM Deputy Managing Director-Marketing Sandeep Singh said the Toyota brand in India will only get stronger and far- reaching "with Rahman in our multi-media campaigns".
On his association with Toyota, Rahman said: "I believe real quality is created when skill meets dedication, when insight meets inspiration, when passion meets perfection. This is why I am happy to be associated with Toyota. The same values drive Toyota in whatever they do."
TKM is betting big in the Etios, as it sets itself up to enter the mass volume segment in India and is aiming for sales of 70,000 units in the first year.
The company is eyeing about 10 per cent share of the Indian passenger car segment by 2015, which is currently approaching the two million units per year mark.