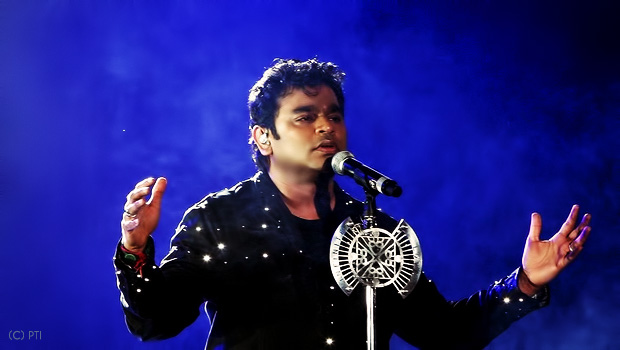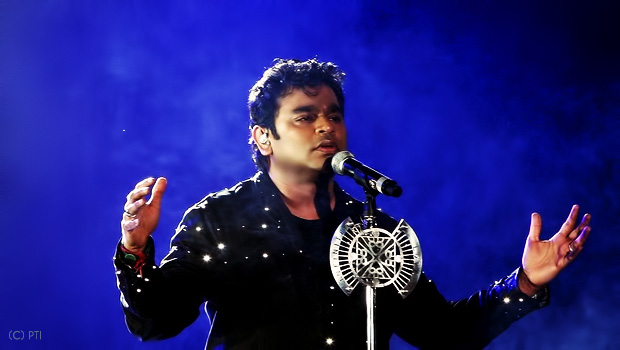 Complete with pyrotechnics, special visual effects and superior acoustics, A R Rahman's maiden concert on his on-going India tour cemented his love for his fans who turned out in droves braving the downpour in Kolkata on Tuesday.
Accompanied by singers Javed Ali, Sukhwinder Singh, Hriday Gattani, Suchismita, Neeti Mohan, Harshdeep Kaur, Shweta Pandit among others, Rahman's offering 'Rahmanishq' thrived on the emotional connect with the audience which repeated lyrics, whistled and cheered with constantly changing visual effects on a giant LCD screen at the Salt Lake Stadium.
Stretching for three hours on a rainy Tuesday, the concert featured videos of lesser-known songs interspersed with hits.
The Dil Hai Chhota Sa hitmaker made a conscious decision not to be repetitive (he performed in the city in 2009) in his choice of songs for the concert.
Kicking off with the soulful yet rhythmic Dil Se, Rahman (dressed in a black outfit fitted with tiny LEDs) with Sukhwinder Singh progressed to numbers Taal Se Taal and Ramta Jogi from Taal.
True to his promise of giving the artistically-inclined Kolkata fans a bit of literature and art, the Grammy Award winner wowed the crowd with his rendition of Rabindranath Tagore's classic poem 'Where The Mind is Without Fear'.
The poem titled 'Jagao Mere Desh Ko' has been tuned by Rahman. It debuted on the 67th Independence Day and juxtaposes Tagore's lyrics with Bollywood lyricist Prasoon Joshi's contribution in Hindi.
In sync with the lyrics, the screen lit up with multi-hued sparks and the tri-colour.
With rapt attention, spectators listened to Rahman croon a few words of the song in Bengali.
The songs that elicited the maximum response from the audiences were Jo Bhi Main, Katiya Karun from Rockstarr, Maiyya Maiyya, Tere Bina from Guru, Yeh Jo Desh Hai Mera from Swades, Jashn-e-Bahara from Jodha Akhbar and Jiya Re from Jab Tak Hai Jaan.
Not only did his fans sing along, they whistled as Mohan, decked up like an Arabian princess atop a chariot, started the Maiyya Maiyya number.
Even the backdrop on the screen added to the charm. Haveli style windows in different colours and shapes came up on screen during renditions of the Sufi-based tracks like Jash-e-Bahara. Birds, flowers and butterflies accentuated Mohan's Jiya Re, while jets of sparks from guitars carried by dancers during Jo Bhi Main added to the song's soulful effect.
Rajasthani (Ghoomar) and Gujarati folk dances highlighted songs like Raanjhana, Tohe Pia Milengey and Banarasiya. Classical dancers on stilts embraced the Tere Bina tracks which also saw acrobats matching steps.
Later, a setup for qawwali with Rahman and his ensemble attired in kurtas and headgear set the mood for a Sufi evening. The intro of Khwaja Mere Khwaja from Jodha Akhbar skillfully merged into Kun Faya Kun from Rockstarr proving Rahman's unique ability to amalgamate styles.
By this time audiences – most of whom were drenched – had become impatient. Clamours for Dil Hai Chhota Sa continued in the background.
They had seen Rahman's varied styles – Indo-Western fusion, Sufi, classical, rock and a clipping of his son too. But clearly some old hits were on their minds.
And old hits they got in the end.
Mustafa enlivened the spectators and as Rahman threw in the words Kolkata, the crowd cheered. And people finally stood up as the ever-green Vande Mataram marked the finale.
(c) Indo-Asian News Service