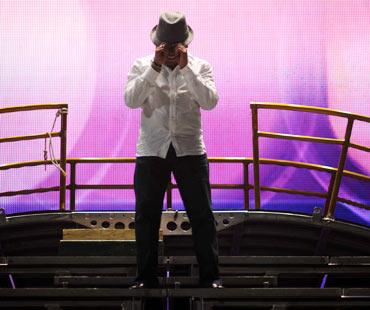 Hunta Live is proud to present a family and friends package to fans – for every four or more tickets bought through Computicket, you will get 25% off.
This great ticket offer will make AR Rahman's concert accessible to all families and friends who wish to attend any of the three AR Rahman concerts in South Africa, in larger groups.
The shows take place at Sun City on 20 November and in Cape Town on November 24 before moving to Durban's Moses Mabhida Stadium for a Grand Finale on 26 November.
Known as the 'Mozart of Madras', the 'AR Rahman Jai Ho Concert: The Journey Home World Tour', will be Rahman's first ever performance in South Africa. In addition, he makes history as the first artist to perform in a FIFA Stadium post the soccer World Cup, when his eagerly-awaited concert comes to Durban's magnificent Moses Mabhida Stadium on Friday 26 November 2010. The show, with its big sets, spectacular sound and visual effects and cast of 35 world-class performers, is a tour de force in the grand tradition of large theatrical spectacles, with 'never seen before' sound and lighting technologies, acrobatic sequences and stunning choreography. The show is staged around various themes as a celebration of India's rich cultural heritage and its journey into the modern world. 'The Journey' represents a fusion of cultures creating a symphony of hope, healing and music, all inspired from both traditional and modern Indian folklore and the music of AR Rahman.
In another 'first' for the City, filming for an HD special will be done during the Durban show; this is for international distribution and an estimated 300-400 million viewers will see the concert worldwide. The 'AR Rahman Jai Ho Concert: The Journey Home World Tour', which has been a year in the making, has already travelled to over 20 major venues from New York to London, with over R1 million tickets sold around the globe. The national tour to South Africa will both 'make' history, as well as 'celebrate' it, as this year commemorates the arrival of Indians in South Africa, 150 years ago.
Rahman travels with a massively talented creative team on his forthcoming concert tour. These include creative director Amy Tinkham, who is known for creating live music concerts for pop-music icons including Paul McCartney, Madonna and Mariah Carey and Lighting designer, Peter Morse, who has worked with Michael Jackson, Barbara Streisand and Britney Spears; Stage design is by Butch Allen and Video design by Bob Bonniol, who between them have created for the likes of The Eagles, Metallica, Journey, Nickleback and Christina Aguilera.
Also performing on stage with AR Rahman are Indian playback singers Hariharan, Shweta Pandit, Javed Ali and Naveen; as well as rap artist and playback singer Blaaze, singer Neeti Muhan and flautist, Naveen. Dancers from 'So You Think You Can Dance' complete the impressive, all-star line-up.
Rahman's rise to prominence came when he captured the world spotlight last year with his work on the film score for Danny Boyle's Slumdog Millionaire winning a Golden Globe, two Academy Awards and most recently two Grammy's. As a touring musician, as well as composer, Rahman has long been filling arenas with his elaborate and stunning live performances with a sold-out performance at the prestigious Hollywood Bowl in 2006. He has played to crowds as large as 120,000 in his home country of India.
The material spans throughout AR's prolific career, including songs from Slumdog Millionaire and landmark Indian films Lagaan, Jaane Tu Ya Jaane Na, Dil Se, Rang De Basanti and Roja', which was a runaway success and brought nationwide fame and acclaim to Rahman. The movie also won him the Indian National Award for the Best Music Composer, the first time ever by a debutant. Since then, Rahman has gone on to win the National Award three more times; the most ever by any music composer.
Rahman has had several high profile placements and appearances in the last year. He was featured in The TIME 100: The World's Most Influential People as well as Fast Company's 100 Most Creative People in Business. Last November, Rahman was invited to perform at The White House for the first state visit for Prime Minister Singh, hosted by President Barack Obama. Rahman was also featured in
the remake of We Are the World alongside Wycliffe Jean, Jennifer Hudson, Barbara Streisand and Celine Dion to name a few.
AR Rahman: Jai Ho Concert – the Journey Home is presented by DStv Indian and East Coast Radio.
TOUR ITINERARY NOVEMBER 2010
Saturday, 20 November – The Sun City Superbowl at 20:00
Wednesday, 24 November – The Grand Arena, GrandWest, Cape Town at 20:00
Friday, 26 November – Moses Mabhida Stadium, Durban at 20:00
Tickets are available from Computicket on 083 915 8000, and outlets countrywide.
For more information visit: www.arrahmanlive.com
Tweet us on Twitter: @HuntaLiveShow
Facebook: http://www.facebook.com/pages/Hunta-Live/284859799235
Artslink.co.za Account:
Anneke van der Westhuizen
Hunta Live
anneke@huntalive.com
021 425 5792
082 708 1957
AR Rahman
Related Venues:
Sun City
, North West Province South Africa