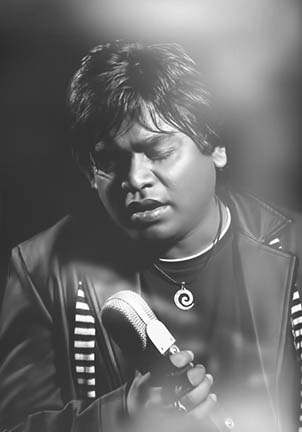 'Rahmanishq', A. R. Rahman's road show, is a paean to the small town, with the maestro, much like the mountain and Mohamed, taking the music to an adoring,hitherto unseen audience. Smaller towns do not get a chance to experience shows that are on a mega scale — why not then do so, was his rationale. In this interview with DC the much-loved musical genius discusses his show, Kochadaiyaan, his avatar as nascent scriptwriter and his self-doubt as a fashion icon.
He is a musical genius whom everyone loves, the Mozart of Madras whose official name is Allah Rakha Rahman. He is rated the 'Most Popular Indian' on social net­working sites, the prolific musician never encountering any improper com­ments on it. Perhaps this is a result of having all his life believed in choosing love over hate — and this remains his abiding philosophy of life. The Oscar winner has embarked on a massive, multi-city live show, called `Rahmanishq' to enthrall audiences in the smaller cities.Wishing Deccan Chronicle on being around for 75 glorious years, ARR says, "It is fun reading the Chennai Chronicle." He speaks to DC in an exclu­sive about the show, his passion for script writing, having a supportive fam­ily, turning fashion icon, Kochadaiyaan and the challenges it posed, and collabo­rating with Hollywood artists.
RAHMANISHQ:
The smaller places in India are not places that people visit frequently or conduct shows on this scale. We thought, why don't we go to these places and give people such shows? Bigger cities, like Kolkata, Bengaluru, Chennai and Delhi, have witnessed them. It's just that at certain moments things synchro­nise and an opportunity turns out right. This is an opportunity for me to meet lovely people in these places, and they get to see a show like this. We hope that we get love. It is just an optimistic approach. Nothing compares to a live performance where I get to visually experience the love of my fans.
THE CONCEPT:
Though it's just music and entertain­ment, my show keeps changing accord­ing to the music I am doing currently. I try to infuse some novelty into it with each stage performance. From Roja to Jab Tak Hai Jaan to Ranjhanaa, I have included all my significant films.
THE NEW 3D INTERACTIVE, A FIRST: Through this, one can interact with audiences through certain buttons which we are going to provide on their mobile phones. There's an app provided which I am going to control. You can change the colour of flashes and stuff like that which we have kept as a sur­prise package. I think this is first-of-its kind in India.
SPECIAL ELEMENTS:
It's a show that is synchro­nised and will be the same in all places. You can call it augment­ed reality. It's a complicated show and lot of things have to work in tan­dem; many features have to be syn­chronised before it goes live. And that's how it works. By and large, it is uni­versal, technical­ly as well as creatively. It requires the co-ordination of about 100 people. And it's not possible to change it upon a whim. Maybe there will be certain elements that appeal to local sensibilities.
SONGS A HIT, BUT NOT THE FILM, KADAL:
Of course, I would be disheartened were this to happen. But without the movie and without the project, my songs wouldn't have been there either. It's not like I do songs separately from the film.I like people who take risks and try to do something — even if they fail, it is fine with me. If we don't take risks we will repeat the tried and tested route. When the movie is a hit, then one feels happy, and that's a good thing. I liked the movie concept of Kadal. It's part of the game. The same Mani Ratnam gave me Roja, and without him I wouldn't be here. The same person gave me Iruvar which was not accepted for years. Now, they say it is one of the best classics. So, certain ideas are ahead of their time, some don't go down well in society, given the current sensibilities. As a piece of film making and art, I really love work­ing with Mani Ratnam, especially. It would be childish to say, Ah, we are upset that the film is a flop'. (Laughs loudly.) It is all part of the game!
CHOOSING HINDI OVER TAMIL FOR OWN PRODUCTION VENTURE:
I have three or four ideas, two in Tamil, two in Hindi. I am still developing the Tamil script and want to go deep into it to achieve what I wanted. The Hindi script got ready faster. I haven't zeroed in on the directors yet.
NEW AVATAR AS SCRIPT WRITER:
Writing is the nucleus of any project, it's the core vision. Since it is music-based, it
Needed that kind of impact. And things are changing drastically, the way film making is being done and the way sensibilities are also changing. So the capsule has to be updated constantly. My writing stories and screenplays happened about five years ago. When I went on long flights, that's when all these ideas would come. I knew that I couldn't be naive enough to think that whatever I did was great. So I had a check point. I told    a couple friends here and I took courses from one of Hollywood's filmmakers and he too started giving inputs on my screenplays. So the whole journey went like that. Eros is producing it and I am co-produc­er. I haven't fixed a cast or crew for it yet — except that I  am doing the music.
NEWBIE AS HERO:
We want to have the screenplay and story in place first and then go on to the next stage. We need a 20- or 21-year-old for the lead role; I think the actor will be new. Once we get a director, we will be able to freeze that.
NO ADVICE FOR ASPIRANTS:
There's no advice to give upcoming com­posers. They are doing very well. And if they are doing well they get their next movie. It's simple! As for them being a threat — those days have gone when peo­ple had their forte, and protected it. We have many other bigger things to do. I don't have time to do all the movies any­way.
ON ACCOMPANYING ARTISTS:
All those accompanying me have sung those original numbers. Comfort levels with them are very important. We have a big band and it is important that most of them behave well. Schedules are very crucial and it they should stick to them, and right now, I have a great team and they complement the show very well. They are reliable.
CREATIVE FREEDOM IN SHOWS:
We have a lot of fun. In a way, I conceive some of the ideas. I want the show to be great, and hence take every bit of other's ideas as well and don't dictate terms. I behave the way that I expect my filmmakers behave. I give others cre­ative space.
MY FAMILY, MY BIGGEST SUPPORT:
I think it's everybody in my family who has been a support to me. My mother and father initiated me into music. A family has to keep a creative person intact. This not only preserves health, but it also helps the family have a clear understanding of the multi-tasking that a creative person does. He has the roles of a father, husband too to try and jug­gle. Thanks are due to them all.
KOCHADAIYAAN'S MUSIC:
The first song from the film, Enge Pogudho Vaanam is going for master­ing. For me, I don't see the technology, I see only the product. It is very good that the film is coming out now. Four years ago, it would have been very hard to recognise that this is Rajinikanth, it was just an animated version. Now, we have his whole body's motions captured very close to him. Surprisingly, you can make him young, fair and make him dance. Exciting things are happening. It's a giant leap in technology. It is musically challenging. In a way, we have to go in the opposite direction. The music has to convey so many emotions! It is, in a way, synthetic and played through the com­puter. Even though, the main motions are there, the music has to give all the flesh and blood that the film requires.
NOT LAUNCHING SON, AMEEN, IN FILMS:
Oh no! He just did the Infinite music video. He is learning music, going to school.My daughter Khatija also left music. (Laughs)
INDIAN MUSIC GOING INTERNATIONAL:
They all see India as a huge market. In fact,that's the reason Priyanka Chopra and others make such an effort. It started with Jai Ho, which became a huge hit. They want to go to great artists from India. The whole Indian music scene is close to becoming internation­al.
FAN WARS IN SOCIAL NETWORKING MEDIA:
I feel most of the online nasty comments on Twitter are bathroom lines written by anonymous people who don't have an identity. If they have an identity let them log in and then comment. It is the credibility of people who post their com­ments that is important. I think some­where we are all watched. Every deed of ours is important. We should feel proud of it later, not ashamed of it. I am very particular about this. One should think that way even online.
COLLABORATING WITH FOREIGN MUSICIANS:
I do keep writing songs for Hollywood. I work with a lot of people. I am with Universal Music Publishing and they bring in all the greatest artists. Out there, it is really convenient. Sometimes, it's visitors like Quincy Jones coming over to the house or a Natasha Bedingfield walking in (Smiles).
BECOMING A FASHION ICON:
Things have changed. Now everything is required. I want to see my programme, I don't want to hide away. Thanks to my beloved wife Saira, she has a natural taste for styling, and in a way, it's one job that's off my head. When she travels with me — anywhere we go, be it LA, Mumbai or Paris she does one trip for my shopping, another for herself. It's not as though I go with whatever styling she suggests. Sometimes we don't agree. Sometimes I feel it's wrong and she would say, try it out and check. And when I check it out it's usually perfect. There was something drastic like the outfit I wore at the VMA Awards at MTV. She gave me a 'silver jacket'. I was apprehensive initially. She said, 'You wear it and see'! Later, she proved she was right when it made quite a few heads turn.
FUTURE PROJECTS:
Shankar's Al, Siddharth's Kaaviya Thalaivan, Monkey Stories with writer Stephen Schwartz of Wicked fame; and in Bollywood, there's Highway with Imtiaz Ali.
DC HYDERABAD'S 75 YEARS:
I wish them all the best. And keep car­rying the great tradition of spreading good news.
CHENNAI CHRONICLE:
I get DC at home. (Laughs) When every­body wakes up in the morning and reads the newspapers, it's slightly the other way around for me — I go to sleep in the morning. I do read quickly, skip through DC. It's fun reading the Chennai Chronicle!
Hearty Thanks To Anupama Subramanian & Deccan Chronicle